2

Hawkeye Large Jet Engine
ID: 423
Prefab Name: HE_Jet_131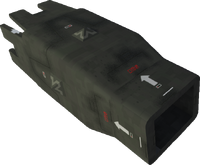 Crafting
What do these stats mean?:
Health Points: 500 (Volatile)
Mass: 3
Fragility: 1
Death Damage: 150
Death radius: 3-6
Death Impulse: 300
Description
Colloquially known as the "Pop Rocket", this air-breathing booster jet can generate thrust of up to 200,000 lbf.
The Hawkeye Large Jet Engine is a grade grade Flight block manufactured by Hawkeye. Like all Hawkeye blocks, it can be crafted with a Hawkeye Fabricator.
It has 4 attachment point(s) and takes up 3 cell(s).
The Hawkeye Rocket Jet offers thrust to mass ratio of 2000.
---