2

Better Future Medium Outside Wing
ID: 793
Prefab Name: BF_Wing_Medium_Outside_413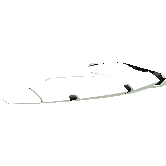 Rarity: Common
Corporation: Better Future
License Grade: 2
Crafting
What do these stats mean?:
Health Points: 600 (Standard)
Mass: 1.5
Fragility: 1
Death Damage: 0
Death radius: 1
Death Impulse: 25
Description
These are powerful, responsive wings mounted on gimbals so that the whole wing will act as a flap.
The Better Future Medium Outside Wing is a grade grade Flight block manufactured by Better Future. Like all Better Future blocks, it can be crafted with a Better Future Fabricator.
It has 3 attachment point(s) and takes up 11 cell(s).