3

Better Future Large Booster
ID: 891
Prefab Name: BF_Booster_212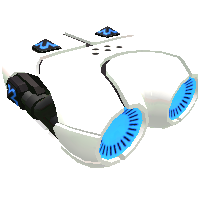 Rarity: Rare
Corporation: Better Future
License Grade: 3
Crafting
What do these stats mean?:
Health Points: 720 (Volatile)
Mass: 3.6
Death Damage: 150.0
Death radius: 6.0
Death Impulse: 300
Description
A good large booster. It's pretty powerful and it will drain your fuel fast too so make sure you bring extra fuel tanks to supply it.
The Better Future Large Booster is a grade 3 Flight block manufactured by Better Future. Like all Better Future blocks, it can be crafted with a Better Future Fabricator.
All three Better Future Booster have the same thrust to mass ratio of 5556.